Dr. Evan Smith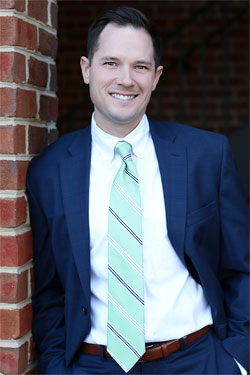 Being raised in a dental family, Dr. Smith has had a passion for the art of dentistry and caring for people for as long as he can remember. His greatest mentor is his father, a practicing dentist for over 40 years, who instilled in Dr. Smith his ethics and values for patient care and delivering the highest quality oral health. Dr. Smith was born and raised in Lexington, South Carolina. He is a graduate of Wofford College where he received a degree in Biology. He then pursued his dream of becoming a dentist at the Medical University of South Carolina College of Dental Medicine where he excelled and received numerous leadership, academic, and clinical awards. He was the recipient of the American Implant Association award for Excellence in Implant Dentistry and on the Dean's List while at MUSC. Desiring to continue to grow his clinical skills, he completed a General Practice Residency at Palmetto Health Richland Hospital. During his residency, he gained experience in advanced restorative and cosmetic procedures, dental implant placement, oral and periodontal surgery, laser therapy, sedation, management of Temporo-mandibular disorders, and patient management. Upon completion of his residency training, he was recruited to be part of two very well respected comprehensive dental practices that focused on cosmetic and complex restorative care in Columbia, South Carolina (2012-2015) and in Beverly Hills, California (2015-2016). While working in private practice, Dr. Smith was sought after to be part of the teaching faculty of the dental residency programs at Palmetto Health Hospital (2012-current) and University of Los Angeles (2015-2016). Dr. Smith believes in the power of teaching and it is one of his many passions. He was honored to receive the "Dr. Harry Sunshine Teaching Mentor Award" in 2015 presented by his residents at Palmetto Health Hospital.
---
Abigail Adams once said "Learning is not attained by chance, it must be sought for with ardor and attended to with diligence." Dr. Smith holds continuing the growth of this clinical skills in the highest regard. He actively attends courses and meetings on various aspects of clinical dentistry, specifically the famous Spear Institute in Scottsdale, Arizona. He is also working towards obtaining his Fellowship in the Academy of General Dentistry, which requires over 500 hours of continuing education to be considered for this honor. He is a member of the American Dental Association, Academy of General Dentistry, California Dental Association, South Carolina Dental Association, American Implant Institute and Christian Dental Community Fellowship Mission Team.
---
Dr. Smith is happily married to his wife, Amy. She is excited to return to her home town of Charlotte and joining the Levine Cancer Institute as one of the Surgical Breast Oncologists. In his free time, Dr. Smith enjoys spending time with his family and friends, playing golf, exercising, being outdoors and enjoying his two dogs, Sawyer and Charlie.
---
Dr. Smith is committed to providing the highest quality dentistry for each patient through constantly continuing his educational journey in the latest advancements in his chosen profession. He is very excited and honored to be joining Dr. James Herron and continuing the tradition of superior patient care.